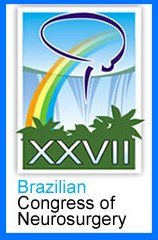 The 27th Annual Brazilian Congress of Neurosurgery will be held in early September this year and Department Chair, Dr. Robert Solomon and Head of the Spine Center, Dr. Paul C. McCormick are getting their presentations ready. They are both going to be very busy.
This Congress is highly regarded and hosts participants and speakers from around the world. This year, the meeting will also hold the 4th International Symposium on Microneurosurgical Anatomy and the Annual Meeting of the World Academy of Neurological Surgery (WANS).
On the first day of the Conference Dr. Solomon, who also heads the Cerebrovascular Center, will be involved in a pre-congress course and panel discussion on Vascular Neurosurgery during which, he will present a lecture on Deep Hypothermic Circulatory Arrest for Complex Intracranial Aneurysms.
Dr. Solomon will start the next day by speaking about Multimodal Treatment of Intracranial Arteriovenous Malformations (AVM). Then, for the rest of the morning he'll be taking part and lecturing in a Vascular Symposium on the Neurosurgical Management of Paraclinoidal Aneurysms. He'll end the day at a Controversies Session with his talk entitled, The Natural History of Unruptured Intracranial Aneurysms.
Dr. McCormick will also take part in a Controversies Session that day. His will focus on degenerative disease of the Cervical Spine and his talk will provide a Critical Analysis of the Cervical Disc Replacement.
The next day, Dr. Solomon will be taking part in another Vascular Symposium where he will speak about how he manages Basilar Artery Aneurysms.
Dr. McCormick will speak that day too about How to Gain Access to the Anterior Portion of Thoracic Spine from the Back. Then in the afternoon he will take part in a seminar in which he will present the topic, Relationship Between Sagittal Balance and Clinical Outcome. Lastly, in the evening he will host a conference on his specialty, Intradural and Intramedullary Spinal Tumors.
Finally, on the last day of the conference, Dr. Solomon will participate in another Controversies Session in which he will speak about the Microsurgical Treatment of Spetzler-Martin Grade IV-V AVMs.
As you can see, they have a lot to prepare for. We wish them happy trails and look forward to hearing all about this monumental event.