DR. McCORMICK'S OFFICE IS OPEN FROM
9-5pm, Monday through Friday.
To request an appointment with Dr. McCormick, click the orange "Request an Appointment" button in the menu bar above, or call his office at (212) 305-7976. Dr. McCormick's office coordinator, Jackie Soler, or one of her colleagues will communicate with you.
You will be asked to fax (212) 342-6850 or mail your recent imaging (MRI, CAT scan within the past 6 months) reports to his office for his review, and provide a brief summary of your history and symptoms. Questions regarding insurance or coverage can also be addressed at that time.
COLUMBIA UNIVERSITY IRVING MEDICAL CENTER/
NEW YORK-PRESBYTERIAN HOSPITAL
710 West 168th Street
The Neurological Institute of New York
5th Floor Spine Center
New York, NY 10032
Take the A, 1, or C train to the 168 Street station and walk 2 blocks west on 168th to Fort Washington Street.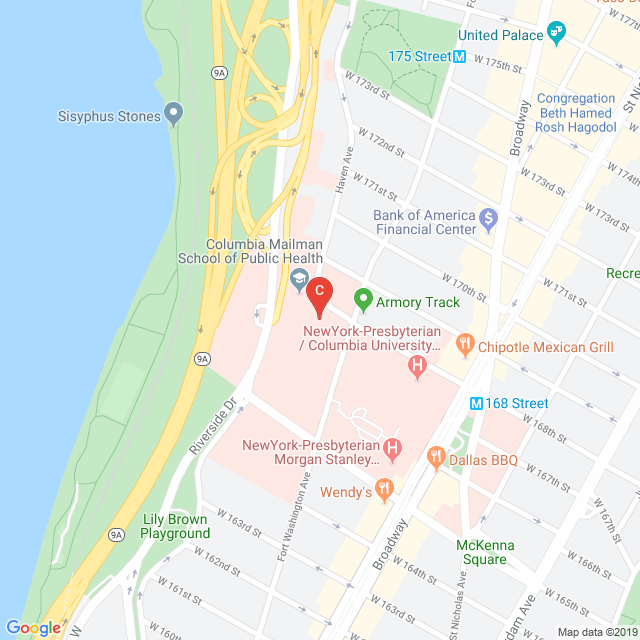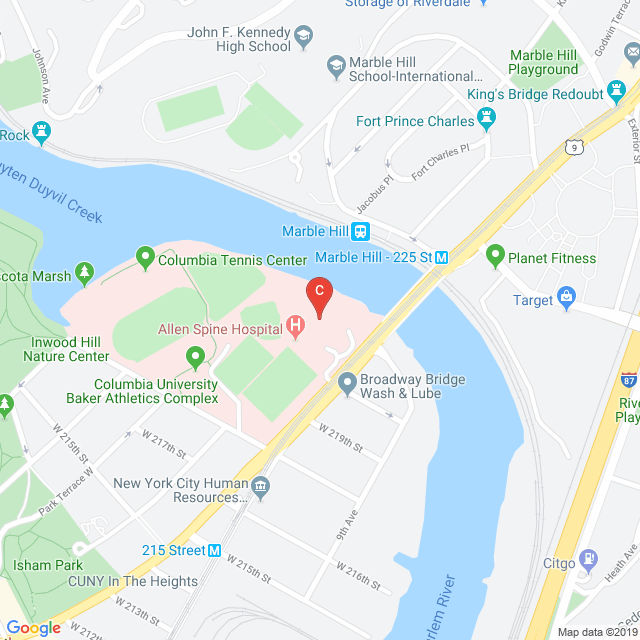 NEW YORK-PRESBYTERIAN DANIEL AND JANE OCH SPINE HOSPITAL
5141 Broadway,3rd Floor- Field West,
New York, NY 10034
Take the 1 train to 215th Street or 225th Street station at Broadway.Walk 5 blocks along Broadway to 220th Street. Or take the A train to 207th Street and then the BX7 bus to 219th Street and Broadway.
The entrance to the Och Spine Hospital is on the west side of the street.
New York Presbyterian
VISITOR PARKING
P
Parking in the CUIMC campus area is a scarce resource. The Facilities Office is responsible for managing the 24-hour and commuter parking lots.
Due to ongoing construction and the limited supply of on-site parking at the Medical Center, we are unable to issue any guest vouchers or parking permits for CUMC students, faculty, staff, or guests at this time.
Parking alternatives are, however, available.
View Google map of CUMC Parking Lots
View Parking Alternatives
For general questions or parking inquiries:
Email: [email protected]
Phone: (212) 305-4357 (Option 7)
Columbia University Medical Center ON CAMPUS PARKING
P
The hospital's parking garage is located at 115 Fort Washington Avenue, between 164th and 165th streets, and is managed by the NYP Parking Office. The garage is open 24 hours a day, 7 days a week. Payments accepted at the hospital's parking garage include cash and debit/credit card.
For more information on parking at the hospital, please contact the NYP Parking Office at (212) 305-4903.
Reduced rate parking is available for family members of patients who expect to be at the Hospital for an extended length of time. A prepaid debit card can be purchased from the Parking Office, which is located on the main/entry level of the visitor parking garage. To be eligible for a prepaid debit card, you must purchase a minimum of five parking days. In order to receive any discounted rates, you will need an approval form from your doctor's office verifying date of admission and expected length of stay. On the date of discharge, the parking fee is waived for patients with validated discharge instructions. If you have any questions, please call the NYP Parking Office at (212) 305-4903, 9AM-5PM.
New York-Presbyterian Spine
HOSPITAL PARKING
P
Valet Service
Valet parking is available at the main entrance of the Hospital at 5141 Broadway, Monday through Friday, 6 am to 10 pm, and weekends and holidays, 8 am to 8 pm. Fees are posted at the main entrance. Most major credit cards are accepted
It all starts from trust, and that trust comes from confidence, and that confidence comes from knowing your doctor has the experience.