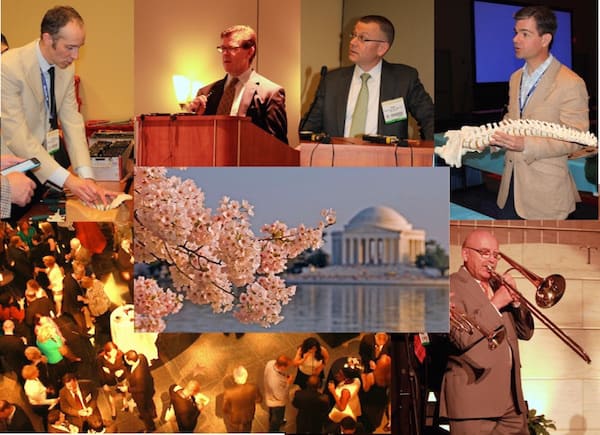 Spring has sprung: the days are longer, the air is warmer, and the doctors have once again returned from the annual meeting of the American Association of Neurological Surgeons.
The 83rd annual AANS meeting was held May 2-6 in Washington, DC, among that city's famous cherry trees. As always, many Columbia neurosurgeons were on the roster. They directed courses, presented research, moderated discussions, and expanded their knowledge.
And of course, Dr. Donald Quest played his trombone. …It just wouldn't be spring without AANS, and it just wouldn't be AANS without Dr. Quest on the horn.
When they weren't enjoying the music, the doctors were busy nonstop. The AANS meeting is a place where they can share their expertise with colleagues, and also keep up-to-date with developments and discussions from around the nation and the world.
For a tiny sample of the AANS offerings, you can click here. It's a list of the "Practical Clinics" offered on May 3 alone. You'll see several courses co-directed by the Columbia neurosurgeons pictured above.
Dr. Peter Angevine co-directed a day-long course called "Techniques for Adult Spinal Deformity Surgery: Hands-on Course for Neurosurgeons." Dr. Guy McKhann was on faculty for "Brain Neoplasms: Updates on Diagnostics through Therapeutics" on the same day. And Dr. Richard Anderson and Dr. Michael Kaiser were both co-directors for a spine class that day called "Cranio-Cervical and C1C2 Stabilization Techniques, Surgical Approaches."
When they weren't teaching, the docs took full advantage of opportunities to learn. Other "Practical Clinics" on that day featured updates on malignant brain tumors, special types of nerve injuries, specific issues in spine surgery, and much, much more.
The doctors design their AANS schedules with sharing in mind. They aim to share what they know with their peers, and also gain the most current information to share with their patients.
Stay tuned as we share more about the doctors' interesting activities at this year's meeting!
To learn more about the doctors who presented at this year's meeting, click their links below:
Dr. Richard Anderson
Dr. Peter Angevine

Dr. Jeffrey Bruce

Dr. E. Sander Connolly
Dr. Neil Feldstein

Dr. Michael Kaiser

Dr. Sean Lavine

Dr. Guy McKhann

Dr. Donald Quest

Dr. Christopher Winfree
Image source for Jefferson Memorial: flickr