Congratulations are in order for Dr. Paul McCormick, Director of the Spine Hospital at the Neurological Institute of New York. Dr. McCormick was recently honored with the Meritorious Member Spine Award at an international meeting of neurosurgeons.
The meeting, called Spine Summit 2018, was a collaboration between two major neurosurgery groups: the Congress of Neurological Surgeons (CNS) and the American Association of Neurological Surgeons (AANS). Each year, spine and peripheral nerve specialists from both organizations come together at the Spine Summit to learn about the latest advances in spinal tumors, pain treatment, minimally invasive spine surgery, spine trauma and more.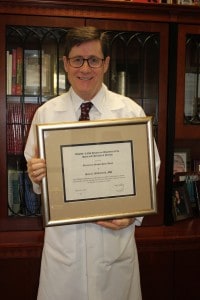 This year, the "more" included the contributions of Dr. Paul McCormick. In introducing Dr. McCormick for the award, fellow Columbia neurosurgeon Dr. Peter Angevine described the many ways in which Dr. McCormick has been a prolific researcher, surgeon, teacher and leader in the field of spine surgery. In addition to leading our Spine Hospital, Dr. McCormick has served in leadership positions in CNS, AANS and other neurosurgical and spine organizations. He has published more than 200 peer-reviewed scientific papers and book chapters, authored or edited 11 books, presented as an invited speaker at more than 230 scientific meetings and been selected as an honored lecturer at 35 institutions throughout North and South America, Europe and the Middle East.
In the field of spine surgery, Dr. McCormick is known particularly for his expertise on tumors in or near the spinal cord. He isn't satisfied with using this expertise only to help his patients, though; he also considers it vital to pass on his knowledge to other neurosurgeons. At this year's Spine Summit, for example, Dr. McCormick brought his experience to two courses about spine tumors and spine surgery.
For one course, Dr. McCormick acted as "judge" for a friendly debate among spine surgeons. Four surgeons presented different viewpoints, and Dr. McCormick followed their presentation with a discussion and, finally, his verdict. (Attendees report that "judge" McCormick was fair, and that there was order in the court.)
The subject of his other course was tumors in the bones and nerves of the spine. Dr. McCormick's presentation covered treatment decisions as well as the technical aspects of safe tumor removal within the delicate spinal cord.
In a way, Dr. McCormick is also "on call" to instruct any neurosurgeon, anywhere, anytime: In 2014, the Journal of Neurological Surgery invited him to produce a series of instructional videos that demonstrate the complexities of removing various types of spinal cord tumors. The videos are freely available for any neurosurgeon to review at any time. He gives surgeons many useful tips, and his expertise and gentle confidence come through clearly.
To learn more about some of Dr. McCormick's videos, read our blog posts about them: There's the removal of a tricky tumor in a spaghetti-like area called the cauda equina, a mystery tumor inside the spinal cord or an unusually shaped dumbbell tumor in the neck of a pregnant patient. More stories can be found here. Interested individuals can follow links from those stories to the Columbia Neurosurgery videos themselves. (Do note that the videos are intended as teaching aids for neurosurgeons, and as such they contain close-up views of spine surgery.)
All of us at the Spine Hospital at the Neurological Institute of New York and Columbia Neurosurgery join with the neurosurgeons from AANS and CNS to applaud Dr. McCormick's dedication and say "Congratulations!"
Read more about Dr. McCormick on his bio page here.