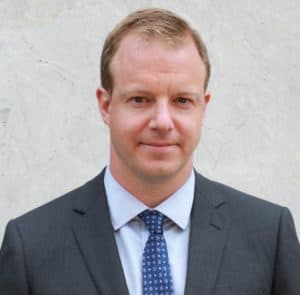 "We are delighted to announce the appointment of Dr. Reid as Assistant Professor of Neurological Surgery as part of the Spine Surgery Service at the Department of Neurosurgery at Columbia University College of Physician and Surgeons," says Dr. Paul McCormick, Director of The Spine Hospital at The Neurological Institute of New York. "Dr. Reid is truly an outstanding neurosurgeon, who has had extensive residency and fellowship training in complex spine surgery at some of the most well-known and revered institutions in the United States, including University of California, San Francisco and the Hospital for Special Surgery. He will focus his practice on predominantly degenerative conditions as well as spinal deformity and general spinal neurosurgery. We are delighted to welcome him onto our faculty and look forward to working with him in the future for the benefit of the patients we treat and the society we serve."

The spine is a complex part of the body, made up of nerves, a spinal cord and a bony spinal column. To operate on such complex structures, neurosurgeons must pursue additional training. All the neurosurgeons at the Spine Hospital are credentialed with additional subspecialty training, and Dr. Reid is no exception.
Dr. Reid has a Bachelor of Arts from Wesleyan University, with a double major in math and molecular biology. He holds a master's degree in physiology from Georgetown University and a medical degree from New Jersey Medical School at Rutgers University.
After medical school, Dr. Reid began his neurosurgical residency at the University of Southern California. During residency, he pursued a year-long fellowship in orthopedic surgery, learning from orthopedic surgeons (specialists in bones and joints) at the Hospital for Special Surgery in New York.
With his residency and orthopedic fellowship complete, he underwent further subspecialty training, completing a fellowship in spinal deformity and spinal tumor surgery under the guidance of neurosurgeons at the University of California, San Francisco.
With a dual background in both neurosurgery and orthopedic surgery, Dr. Reid is one of a select number of neurosurgeons trained in a second surgical specialty. He has a deep understanding of not only the nervous system but also the bony spinal column and all its complex joints. His comprehensive knowledge and skill allow him to tailor treatments to each individual patient using a wide range of available surgical and nonsurgical options.
Dr. Reid is a truly exceptional spine surgeon with expertise including spinal tumors, adult spinal deformity and both minimally invasive and complex spinal revision surgery.
In addition to his clinical expertise, Dr. Reid's research interests include minimally invasive spine surgery, adult scoliosis and sagittal imbalance. His research has appeared in the prestigious Journal of Neurosurgery: Spine.
Also of note, Dr. Reid has already gotten into the swing of things around here and presented at Columbia's Grand Rounds. His topic was spinal deformity, and you can see a picture of him speaking below.
Welcome to the Spine Hospital, Dr. Reid!