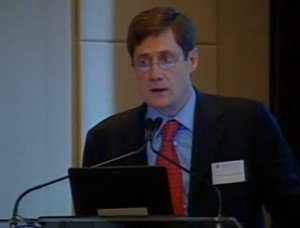 Dr. Paul McCormick and Dr. Michael Kaiser from the Spine Center recently returned from Illinois where they taught residents from around the country the finer points of spinal stabilization.
This annual three day meeting is sponsored by the American Association of Neurological Surgeons (AANS) and is held just outside of Chicago at the North American Spine Society '(NASS) training facility. This year Dr. McCormick was the honored guest.
Dr. Kaiser, who has participated every year since the meetings began in 2006, tells us, "We like to refer to it as 'spine camp' with 40 residents selected from around the country to attend.  It is a relatively rigorous course – we start the days between six thirty and seven AM and work until five PM.  The day is split between didactic sessions and cadaver labs to provide residents a hands-on opportunity to apply the concepts learned during lectures."
In addition to teaching residents, the meeting is an opportunity for national leaders in spine to discuss current events, policy initiatives, and academic endeavors.