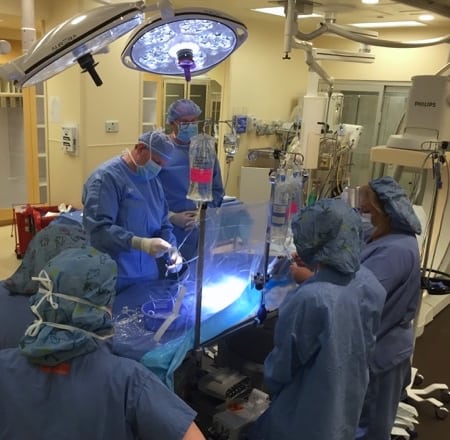 Another industry distinction has come Columbia's way:
We're pleased to announce that the Department of Neurosurgery at Columbia University Medical Center/NewYork-Presbyterian Hospital was included on a 2015 list of "100 Hospital and Health Systems with Great Neurosurgery and Spine Programs," by Becker's Hospital Review. Columbia was chosen for its work in combination with NewYork-Presbyterian Hospital/Weill Cornell Neuroscience Center.
Becker's Hospital Review is an industry-focused publication providing CEOs, CFOs, COOs and other decision-makers in hospital and healthcare management with relevant business and legal news and information. The website publishes multiple "top lists" throughout the year, highlighting many areas of the industry, ranging from "25 Healthcare Leaders Under 40" to "The Greenest Hospitals in America."
According to the Becker's Hospital Review site, "The organizations on this year's [Great Neurosurgery and Spine Programs] list are remarkable leaders in neurosciences, providing treatment for patients with various brain and spine conditions." Each hospital on the list was chosen based on various rankings and awards it received throughout the year.
Among the reasons Columbia made the list: Its repeated U.S. News & World Report top-hospital rankings. For 2015, Columbia was ranked #5 nationally on the U.S. News list of best hospitals for adult neurology and neurosurgery. It also came in #1 in the year's overall rankings for adult neurology and neurosurgery in NY state and the NYC Metro Area, as well as being one of just 15 hospitals in the country to make the U.S. News & World Report Honor Roll.
Becker's Hospital Review also cited the innovative work Columbia's Department of Neurosurgery does in conjunction with The Spine Hospital at the Neurological Institute of New York. There, neurosurgeons coordinate with physical therapists, nurses and other professionals in non-operative and operative treatments for disorders of the spine and spinal cord.
Congratulations to the doctors in the Department of Neurosurgery, the support teams and the staff for their ongoing commitment to giving their patients the best possible outcomes, which has led to repeated recognition within the healthcare industry.