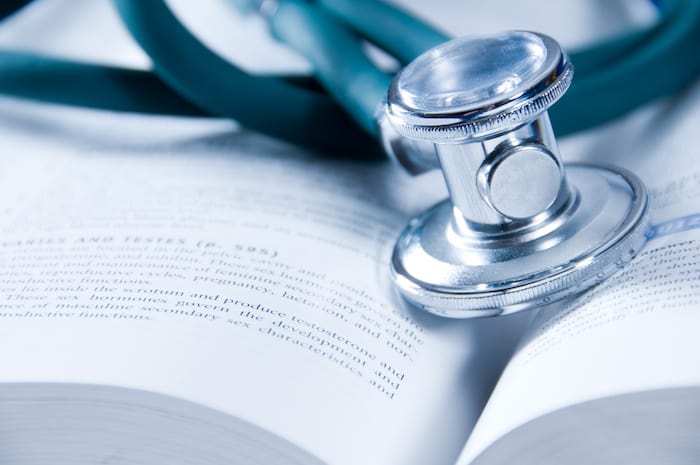 Several of our neurosurgeons have been busy putting pen to paper to share their professional knowledge. The neurosurgeons devoted their time to help write the 13th edition of the textbook Merritt's Neurology, which hit bookshelves in the fall of 2015.
First published in 1955, Merritt's Neurology continues to be widely used as a reference tool by neurosurgeons, neurologists, primary care physicians and residents. To keep fellow physicians up to date, it includes the most current information and guidance about neurological diseases, diagnosis, treatments and more.
Although the subject of this book, neurology—the study of the nervous system—may seem predictable, the table of contents lists a slew of highly specific topics, each written by experts in that topic. Of the 180 total contributors, eight are from the Department of Neurosurgery here at Columbia University Medical Center/NewYork-Presbyterian Hospital.
Spine specialists Drs. Peter D. Angevine, Michael G. Kaiser, Christopher E. Mandigo and Paul C. McCormick, Director of The Spine Hospital at the Neurological Institute of New York, share their breadth of knowledge about the spinal cord. The first three neurosurgeons joined forces to produce a chapter about spinal cord injury. The fourth, Dr. McCormick, served as the section editor of a group of chapters about spinal cord disorders and also contributed to two chapters about spinal diseases.
An expert in peripheral nerve injury and surgery, Dr. Christopher J. Winfree shares his expertise in a chapter about cranial and peripheral nerve injuries. Nerves carry information to and from the brain or spinal cord and parts of the body. Cranial nerves start in the brain and most extend to places on the head and neck, and peripheral nerves start in the spinal cord and extend to parts all over in the body.
From the Brain Tumor Center, with more than 30 years of experience, Dr. Michael B. Sisti penned a chapter about acoustic neuromas. These are a type of brain tumor that grows on the nerve leading from the brain to areas on the face. His chapter also includes information about other types of tumors located at the base of the skull.
Our department chair, Dr. Robert A. Solomon, has specialized in cerebrovascular diseases since 1986 and shares his 30 years of experience in a chapter about subarachnoid hemorrhage. This life-threatening condition occurs when a blood vessel in the brain bursts and leaks into the area surrounding the brain.
As co-director of the Brain Tumor Center and director of Skull Base Surgery, Dr. Jeffrey N. Bruce specializes in operating on complex brain tumors. He shares this knowledge in two chapters about brain tumors: one about pituitary tumors, which occur in the pituitary gland, whose role is to control other glands in the body, and the other about pineal tumors, which occur in the pineal gland, whose role is to control sleep and wake cycles.
This isn't the first time our neurosurgeons have contributed to Merritt's Neurology. About five years ago, several of these same contributors collaborated with colleagues on chapters in the 12th edition.
To read more about past contributors for the 12th edition, check out here and here.
Learn more about the neurosurgoens mentioned in this post on their bio pages listed below:
Dr. Robert Solomon
Dr. Peter Angevine
Dr. Michael Sisti
Dr. Jeffrey Bruce
Dr. Paul McCormick
Dr. Christopher Winfree
Dr. Christopher Mandigo
Dr. Michael Kaiser
Resources
Merritt's Neurology, 13th Edition.
Merritt's "Grandchildren" Pen 12th edition of his Famous Text.
Photo Credit: © [Yanik Chauvin] /Dollar Photo Club