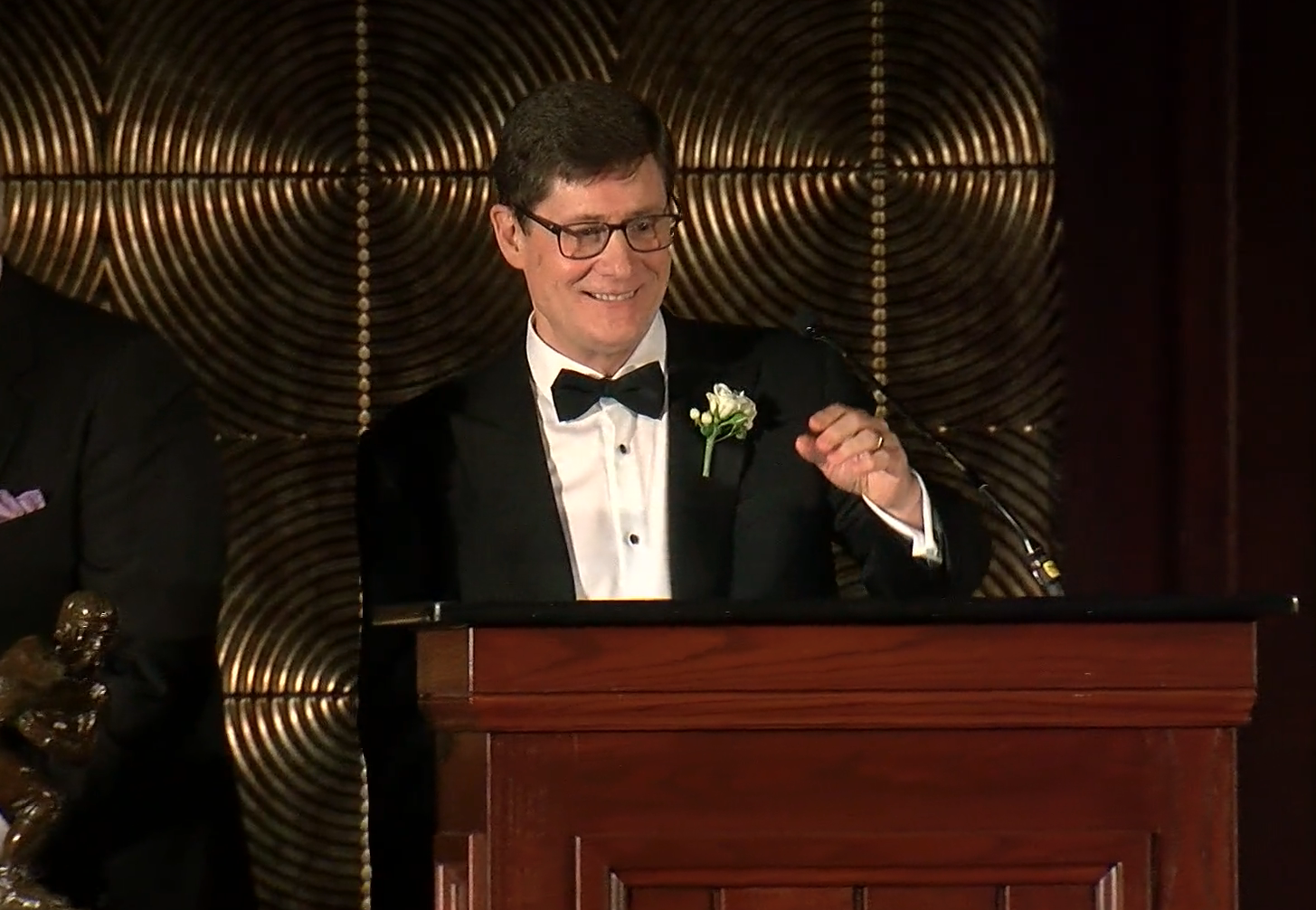 Here at Columbia Neurosurgery, we often have the pleasure of congratulating our neurosurgeons for being honored within their profession. It's far less often that we congratulate a Columbia neurosurgeon being honored for his work by an intercollegiate sports organization. But today we can do just that.
A warm Columbia Lions congratulations to Dr. Paul McCormick, who was selected as Columbia's 2019 honoree for the Ivy Football Association (IFA).

Dr. McCormick's association with Columbia goes all the way back to his undergraduate days, when he played four years of football in Columbia blue. He was even team captain senior year. And he was no slouch on the field: During his time as a Lion, McCormick was the leading rusher, and he was a national leader in kickoff and punt returns.
But his accomplishments since the gridiron are what brought Dr. McCormick to the IFA podium. Each year, the IFA recognizes one former football player from each Ivy League school—someone who has gone on to surpass excellence in his field. Honorees this year included award-winning leaders in business, government, sports, entertainment and, of course, medicine.
Dr. McCormick was chosen to represent Columbia in recognition of his achievements as an expert spinal cord surgeon. Over the years, he has helped hundreds of patients, published prolifically, led many neurosurgical organizations, traveled widely to educate other neurosurgeons, established a classification system for spinal cord tumors that bears his name and created a video atlas to some of the trickiest spinal cord microsurgeries.
And like the other honorees, Dr. McCormick credits the lessons he learned on the football field as foundational to some of that success.
"Football was more than a game," explains Dr. McCormick in this video produced by IFA. "It was work, it was commitment, it was discipline, it was sacrifice." But at the same time, "it was teammates, it was friendship, it was camaraderie, it was purpose."
And it's easy to see how Dr. McCormick has forged his professional life out of these same elements. He is a neurosurgeon, a leading member of a profession well known for discipline and commitment. And he has also pursued his entire career at Columbia, where the neurosurgery department is itself well known for teamwork and camaraderie. Dr. McCormick has kept those values close and consistent as he's moved from winning games on the field to winning the esteem of his patients and colleagues.
The IFA video highlights some of those patients and colleagues, as well as friends and Columbia leaders. It features footage from today, of Dr. McCormick in his Allen Pavillion office overlooking the CU football field, and also of McCormick as an undergraduate, playing on that field. (Check out the 12-second play that starts at 3:24!)
Dr. McCormick was grateful to be chosen as the honoree for the institution and the sport that have both been so important to him.
"Football didn't define me, but it was an essential element of who I was—and I think, in many ways, of who I still am today," says Dr. McCormick in his acceptance speech. (The speech is under two minutes long—you can watch it here.) "Beyond the lasting friendships, cherished memories and indelible life lessons, Ivy football remains an integral part of who I am as a physician, as a parent and husband, and as a person. For that I will always remember, and be grateful for, my time on the Ivy Football field."
Read more about Dr. McCormick and the Columbia Lions in our Making of a Neurosurgeon series here: The Making of a Neurosurgeon: Dr. Paul C. McCormick.
Learn more about Dr. McCormick on his bio page here.